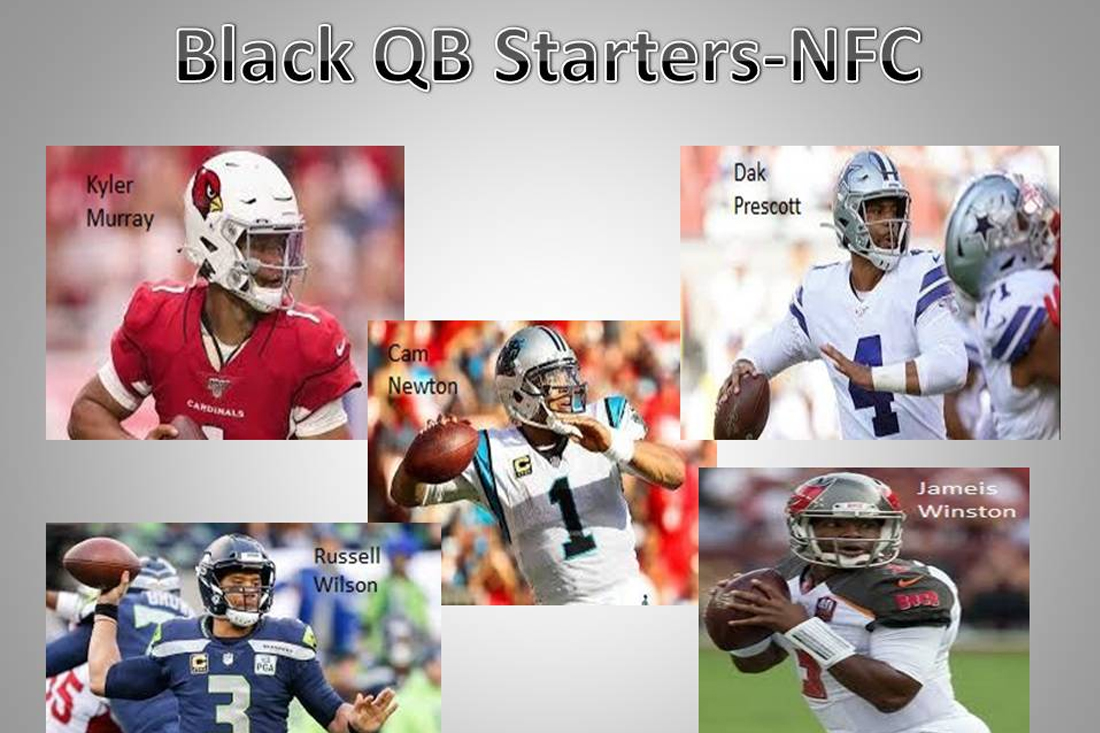 by royforeman
By Lenny Moon
Kyler Murray, Arizona Cardinals
There's a popular expression that when confronted with a feisty dog that's resting, "don't agitate it, just let a sleeping dog chill". Well if one doesn't want to fire up the turbo engine of the 5-10 quarterback from north Texas, then don't suggest that he's too small to play his position at the highest level. Kyler Cole Murray has been told that most of his athletic existence and apparently when those "too small" words are encountered, it places another log on the fire as if he needed additional inspiration. His father is Kevin Murray, an established collegiate quarterback at Texas A&M (1983-86) who posted an impressive career starting record of 25-6-1 while playing for the Aggies.
While a prep athlete at Allen High School in Allen, Tx, Murray was a three year starter while posting a 42-0 undefeated record and led his team to three consecutive 6-A state titles in the highly competitive Lone Star State battleground. This multi-talented star was arguably equally talented on the baseball diamond as a power hitting infielder thus becoming the first high school performer in history to be selected to both the Under Armour All-American Football as well as the UA All-American Baseball games. Although he could have gone to practically any school in the nation as a two-sport star, he selected his father's alma mater Texas A&M back in 2015. Murray eventually transferred to Oklahoma and became 2017 Heisman Trophy winner Baker Mayfield backup after honoring the NCAA transfer rule. That following campaign, the Texas native took over the reins and promptly became the best player in the nation by winning the Heisman. In spite of the constant nemesis pertaining to his height deficiency to play the quarterback position at the highest level, Kyler became the first player taken in the 2019 NFL Draft foregoing his last year of eligibility and a commitment from the Oakland As who had invested a $4.66 million signing bonus. Winning has always been an entry on Kyler Murray's resume.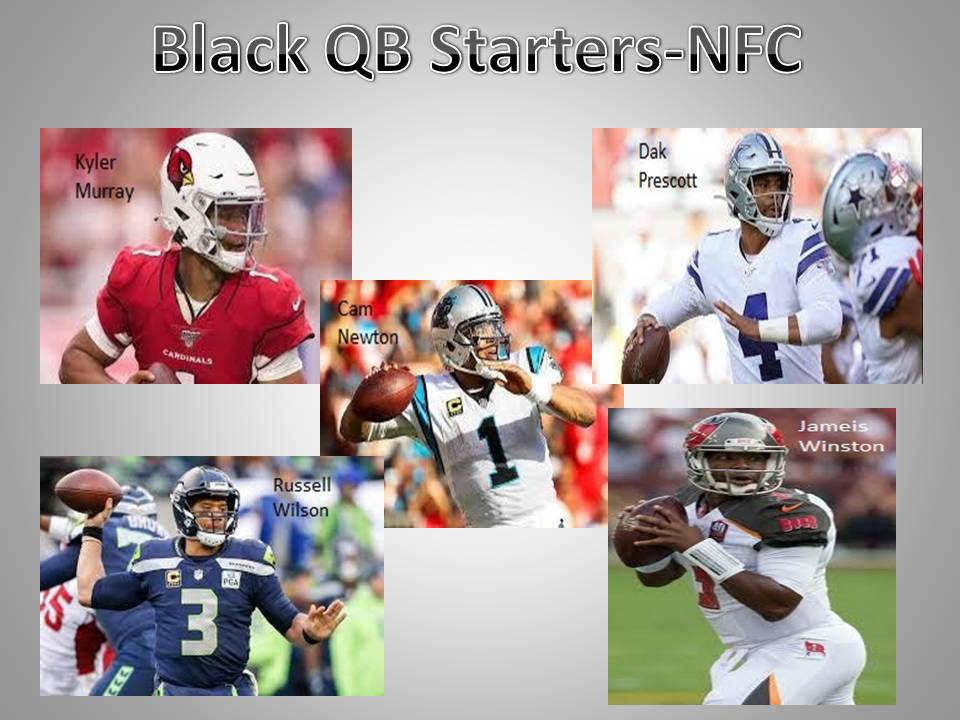 Cameron Newton, Carolina Panthers
Although injuries have begun to set in the past two seasons, Cameron Jerrell Newton raised his level of expectations early in his NFL career while possessing a 6-5, 250 pound frame to operate with. The Cam Newton story is certainly not one that followed a clear path to stardom in spite of his undeniable physical attributes. A native of the Atlanta, Ga community of Westlake, Newton became a five-star talent and one of the top dual threat quarterbacks in the nation. He chose Florida and became a member of the nation's top recruiting class in 2007. The Southeastern Conference prospect experienced a felony related incident while in Gainesville his freshman year, cleared that legal hurdle and opted to attend Blinn Jr College in Texas. While there, Cam led the Brenham based two-year institution to the 2009 NJCAA National Football Championship and again elevated himself as a hot recruit by Division I football programs.
Newton returned to the SEC by choosing Auburn as a junior, and wasted no time in asserting himself by leading the team to the conference championship, winning the first BCS National Championship and capped that by becoming the third gridder in school history (along with Pat Sullivan and Bo Jackson) to win the Heisman Trophy in 2010. His ledger read 2,854 passing yards with 30 TDs to go along with 1,473 yards and 20 more TDs. In 2011, Newton became only the third Black quarterback to be selected with first pick of the NFL Draft by the Carolina Panthers (Mike Vick by Atlanta in 2001 and JaMarcus Russell in 2007 by Oakland preceded him). He would immediately make his impact felt by starting all 16 games, throwing for 4,051 yards (1st rookie in history to toss for over 4,000 yds) and 21 TDs to go along with 706 rushing yards and 14 TDs. His superman alter-ego was officially out of the closet and had surfaced on the gridirons of his NFL opponents. Four seasons later, the Georgia native rose to the top of his profession by winning the MVP of the league while also leading Carolina to Super Bowl 50. Prior to his accumulation of injuries, Newton was ranked as the top player in the NFL by his peers on the NFL Top 100 Players of 2016.
Dak Prescott, Dallas Cowboys
Rayne Dakota "Dak" Prescott has shown leadership capabilities from the time that he was taking snaps in the small northern Louisiana town of Houghton. Located a short drive from the Shreveport-Bossier City metro, Prescott led Houghton High to the district 1-AAAA title his senior campaign. He attracted attention from the collegiate ranks by throwing for nearly 2,900 yards and 39 TDs while rushing for another 951 yards (only 90 attempts) with 17 TDs. Mississippi State was the beneficiary of Dak's collegiate decision, landing in Starkville in advance of the 2011 season. Although initially redshirted, he garnered some significant repetitions in 2013, capping off the season with a sparkling MVP effort in the Liberty Bowl defeating Rice 44-7.
The next two seasons Prescott elevated his Bulldogs to a level that had been unchartered prior to his arrival, including the school's first #1 ranking in 2014. Their 10-2 record and post season Orange Bowl appearance merited a bright spotlight spearheaded by the new sheriff in town. Prescott broke 10 school records during that campaign, earned First Team All-SEC and finished eighth in the Heisman Trophy balloting. Before he wrapped his collegiate career, Dak left an indelible impression on the school and conference record books. Among them is third in SEC history in total yards (11,153) and fourth in total TDs (107). His fingerprints are plastered on 38 school records. Additionally, he holds the Orange Bowl single game record for passing yards (453), two-time First Team All-SEC and 2016 Senior Bowl MVP among many other accolades.
Dak was selected with the 135th pick of the 2016 NFL Draft in the 4th round by the Dallas Cowboys. The Louisiana native battled his way to the backup quarterback position in training camp, and when starter Tony Romo was felled by injury during the preseason he was inserted as the interim field general to start the season. Prescott was the epitome of preparation meeting opportunity as he played so well that a wobbly Romo was permanently unseated. The Cowboys finished with a 13-3 regular season record. Dak earned NFL Offensive Rookie of the Year, selected to his first NFL Pro Bowl and ranked 14th by his peers on the NFL Top 100 Players. Needless to say, he hadn't looked back.

Russell Wilson, Seattle Seahawks
Russell Carrington Wilson was earmarked as a high achiever at an early stage of his development. His late father Harrison Wilson was a lawyer and a two sport star for Dartmouth and later a receiver for the San Diego Chargers preseason squad in 1980. His paternal grandfather played football and basketball at Kentucky State and later became the president of Norfolk State University. Russ attended the preparatory Collegiate High School in Richmond, Va where he was a two-time All-State gridder his junior and senior campaigns, throwing for over 6,000 yds and 74 TDs; rushing for nearly 1,800 yards and 33 more touchdowns during those two seasons. Wilson elected to remain in the south, choosing North Carolina State of the Atlantic Coast Conference in 2007.
Wilson left his mark at NC State as a two sport star capped off by a sterling 2010 season when he led the 9-4 Wolfpack to a 23-7 Champs Sports Bowl over West Virginia. That same campaign, the dual threat signal caller led the ACC in passing yds per game (274.1) and total offense yds per game (307.5). These feats merited him runner-up to ACC Player of the Year before graduating in three years with a BA in communication and was a grad student before transferring to Wisconsin of the Big 10 Conference. Prior to making his decision of remaining a collegiate quarterback, Wilson had entertained the Major League Baseball offer from the Colorado Rockies. Once in Madison, Wisconsin, Russ picked up where he left off by throwing for 3,175 yds with 33 TDs (Badger single season record) and rushed for 6 more TDs earning 1st Team All Big Ten.
At 5-11, 210 Wilson was considered too short to parlay his collegiate accomplishments on the next level but was still drafted by Seattle with the 75th pick of the 3rd round of the 2012 NFL Draft. Never being one to shy away from a challenge, Russ promptly asserted himself with the Seahawks becoming a starter during his maiden voyage, tossing 3,118 yards and 26 TDs while rushing for 489 yds and 4 TDs leading his team to the postseason with an 11-5 record. His first taste of the NFL Playoffs was a 24-14 NFC Wild Card Round victory over Washington before narrowly losing to Atlanta in the next round 30-28 in spite of passing for 385 yards and rushing for 60 more in defeat. In only his second season of pro ball, Wilson led his team to a 13-3 regular season record, NFC West champions, No 1 seed throughout the playoffs, and ultimately a berth in Super Bowl XLVIII vs the Denver Broncos. The Seahawks overwhelmed their opponent 43-8 as Seattle's signal caller became the shortest QB to lead his team to the championship during the Super Bowl era at 5 foot 11 (Len Dawson, Joe Theismann and Drew Brees are listed at 6'0"). The Virginia native has led his team to two Super Bowls (in his first three seasons) and six playoff appearances in his first seven years as the field general of the Seahawks. And if the start of the 2019 campaign is any indication, lookout once again for Seattle in the postseason led by their future Pro Football Hall of Famer.
Jameis Winston, Tampa Bay
Success came early for the 6-4, 230 Birmingham, Al area product Jameis Lanaed Winston. While at Hueytown High the dual threat quarterback was considered the top recruit at his position in the nation, leading his 6-A high school to the Alabama state championship his junior year. He also starred in baseball, drafted by the Texas Rangers in the 2012 Major League Baseball Draft. Elevating himself amongst the top tier of the high school recruits in the country, he selected Florida State. Winston was redshirted behind resident starter E.J. Manuel and was given the keys the following season as starter of the Seminoles entering the 2013 campaign.
Winston hit the ground running, completing 25 of 27 tosses and five total TDs in a 41-17 victory Pittsburgh. This would serve notice to the college football world as FSU would take an undefeated 13-0 record into the 2014 BCS National Championship Game vs Auburn. On his 20th birthday, Jameis led the Seminoles to a 34-31 victory, throwing for 235 yards and two TD passes including the game-winner with only 0:13 remaining to secure the title as a freshman. The first year starter led the ACC in passing with 4,057 yards and 40 TDs (both conference freshman records). And to add the cherry to the sundae, he became only the second freshman and the youngest in history to win the coveted Heisman Trophy. He would continue his winning ways by leading FSU to a second 13-0 undefeated regular season before losing to Oregon in the 2014 Rose Bowl thus finishing his collegiate career with a 26-1 mark.
After foregoing his final two years of eligibility, Winston was the first player selected in the 2015 NFL Draft by the Tampa Bay Buccaneers. This represented the fourth Black quarterback taken with the draft's first pick (Kyler Murray was taken 1st in the most recent 2019 NFL Draft to become the 5th).Although he experienced a somewhat roller coaster level of success as a professional signal caller, the Alabama native is the first QB in NFL history to pass for over 4,000 yards in his first two seasons in the league. In 2016, Winston led the Bucs to their first winning season in six years and the following year became the second youngest field general to reach the 10,000 career yardage plateau in league history.
+++++++++++++++++++++++++++++++++++++++++++++++++++++++++++++++++++
At press time, New Orleans Saints reserve quarterback Teddy Bridgewater was taking snaps as the starter, leading his team to five consecutive victories spelling injured star Drew Brees, Drafted by the Minnesota Vikings with the 32nd pick of the 2014 NFL Draft out of Louisville, Bridgewater suffered a career threatened non-contact ACL injury in 2016. Following a brief stint with the New York Jets, the Miami native was traded to the Saints in 2018 and is currently working under a one-year contractual agreement with New Orleans.