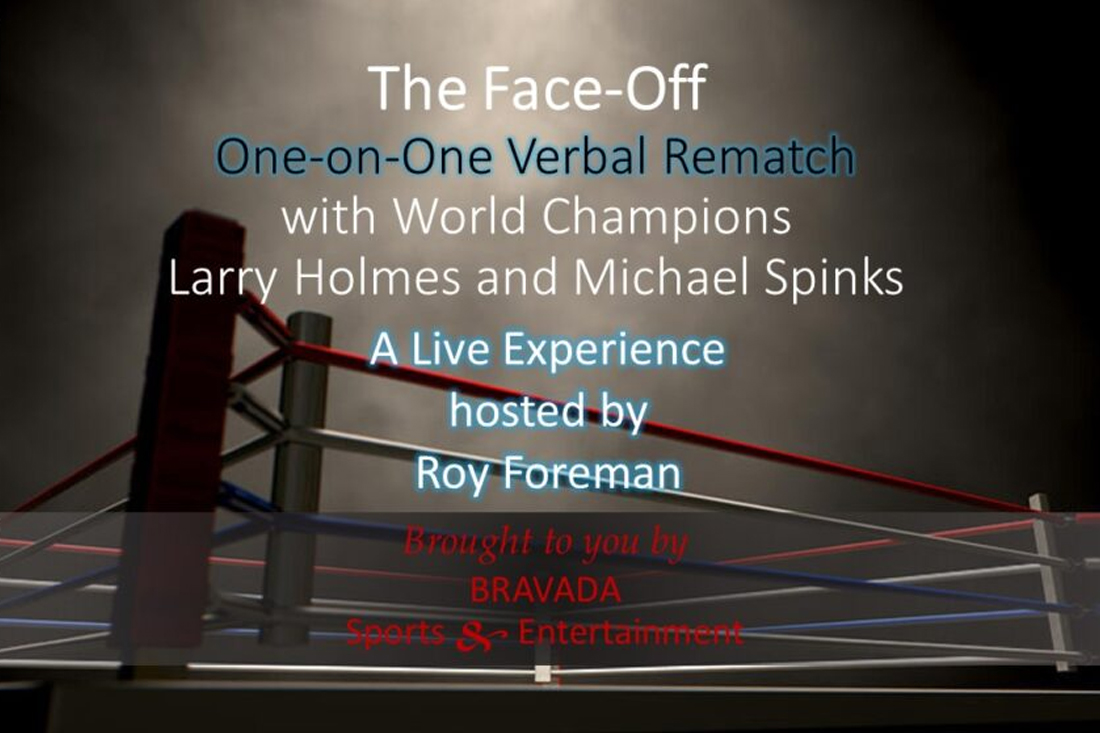 by royforeman
The Face-Off One-on-One Verbal Rematch with World Champions Larry Holmes and Michael Spinks, a live experience hosted by Roy Foreman and brought to you by BRAVADA Sports & Entertainment.
Face-Off is a "One on One" Verbal Rematch. Each boxer will describe their never heard before thoughts, feelings and strategies experienced during the fight. BRAVADA Sports & Entertainment will recreate these match-up's utilizing a massive backdrop screen showing fight highlights, complemented by contemporary lighting and high-tech sound giving each punch a realistic feel. Roy Forman, the distinguished boxing icon, will moderate each round with the boxers, giving the audience a once-in-a-lifetime view into a more intimate perspective of what really happened within the four corners of the ring. Following each FACE-OFF, as a bonus, audience members can engage in a "live" Q and A session with participating boxers.
The live experience will be capped at 147 seats, providing an exclusive, intimate atmosphere with 8 VIP Tables available, a large video screen and performance sound system will display fight highlights and sponsor messages, with an exclusive post-program audience Q&A and VIP Meet & Greet Reception.
The event will take place at Elevation 27 at 600 Nevan Road, Virginia Beach, VA 23451. For tickets, call 757-716-4028 or visit www.elevation27.com.
Sponsorship assets and opportunities are available. Contact Steve Almas, Corporate Partnerships at [email protected] or (757) 573-2824.