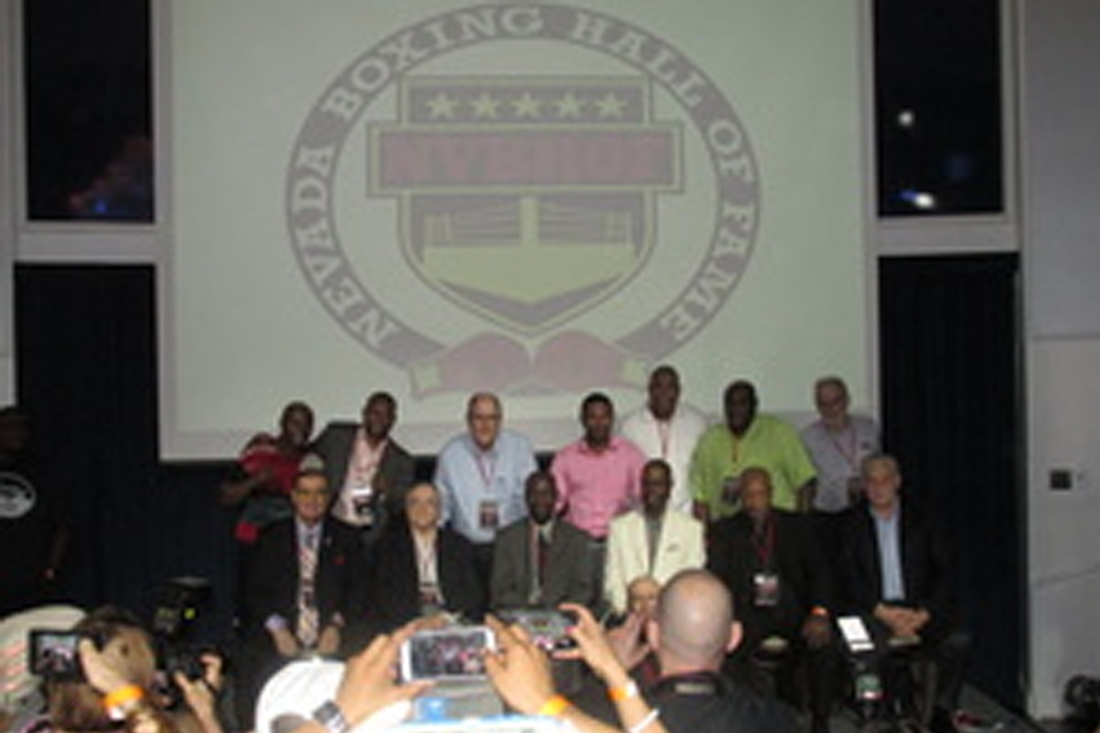 by royforeman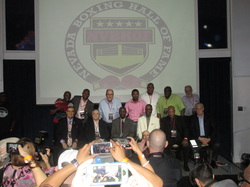 The Nevada Boxing Hall Of Fame held its first event of 2014, the "Party With Boxing's Legends" fundraiser on Friday, April 11, in the beautiful Havana Room at The New Tropicana Las Vegas. The event, designed to bring the boxing community together, started at 8:00 pm and was truly a party.
Photo Credit – Lorenzo Collins
In attendance were 7 former World Champions including 2014 Inductee Cornelius Boza-Edwards, and 2013 Inductee Mike "The Body Snatcher" McCallum. Other champions on hand include Sugar Shane Mosley, Zab Judah, Ishe Smith, Kevin Kelley and Clarence "Bones" Adams. Two NVBHOF Inductees in the "Officials" class, referees Richard Steele and Kenny Bayless was in attendance to speak to fans, as will Trainer Inductee Miguel Diaz. Representing the boxing broadcast galaxy was 2013 Inductee Al Bernstein of Showtime, Harold Lederman of HBO fame, and Inductee Col. Bob Sheridan of international renown. From the world of entertainment, gifted R&B voice "Lloyd" attended, and the party was hosted by radio star DJ Nina 9.
NVBHOF Founder and President Rich Marotta said, "We are excited to kick off our 2014 events and especially thrilled to be hosting this event at the all-new Tropicana resort in Las Vegas. Fans will absolutely be blown away by the Havana Room – not only is it one of the most elegant and unique Las Vegas event venues, but it's the perfect backdrop for this night of fun and fundraising. The event will be a combination 'meet and greet', autograph and photo session with music mixed in, and a great raffle for boxing memorabilia. With the Pacquiao-Bradley fight the next night, and the ESPN Friday show earlier that night, we are hoping boxing fans in Vegas take advantage of this unique opportunity to engage with boxing legends up close."
The Nevada Boxing Hall Of Fame is an IRS 501(c)3 charitable, non-profit organization. Ticket purchases, donations, auction and raffle tickets are tax deductible.
For more information, go to http://www.nvbhof.com
February 27, 2014 – Full List of 2014′s NVBHOF Inductees:
2014 Inductees: Nevada Resident Boxers: Sonny Liston • Cornelius Boza Edwards
Nevada Non-Resident Boxers: George Foreman • Evander Holyfield • Roberto Duran
Adoptive Nevada Resident: Joe Louis
Pioneer Class: Jack Dempsey • Archie Moore
Officials: Richard Steele • Kenny Bayless
Media: Col. Bob Sheridan • Kevin Iole
Promoters: Bruce Trampler
Executives: Chuck Minker • Luther Mack
Special Contributors: Clifford Perlman • Steve Wynn
From Nevada Boxing Hall of Fame – http://www.nvbhof.com