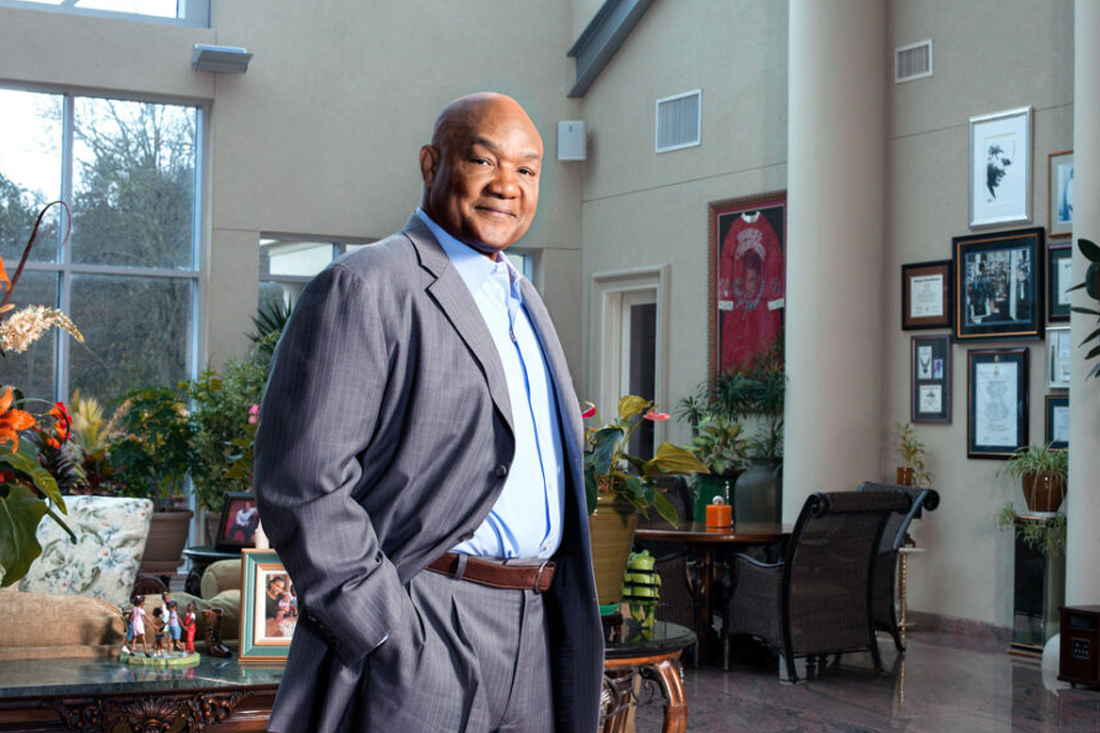 by royforeman
by Daniel Roberts @readDanwrite March 6, 2015, 9:00 AM EST

The ex–heavyweight champ, current minister and pitchman, is testament to the power of reinvention. And he isn't done yet.

George Foreman's business philosophy can be reduced to three words: Never say no.

"Don't ever stop earning," he says. "It's a curse to think you have enough. There is never enough. George Foreman, Bill Gates—anyone. Money has to be spent. It is not made to be saved." Hence, it must be replenished, and replenish it Foreman does. You want to pay him $10,000 to share some tales with your business group of his days as heavyweight champ? He's there. "I remember my first million-dollar check for a boxing match," Foreman says. "What a joy. And then my first $5 million check. What a joy. But today I can go out and get a $5,000 check, and the joy is as great. Because I'm earning."
At 66, Foreman could stop. He has already cycled through at least four careers in a life that defines the word "reinvention": Muscled, scowling boxing champ; born-again minister; genial, flabby comeback king; and pitchman for Nike NKE -1.57% , McDonald's MCD -2.00% , Meineke, and most famously, the namesake grill whose rights earned him a $137 million lifetime deal.
Foreman may still have a few more acts in him. In 2013 he started a boxing-promotion business. And now he's preparing to launch a whole new enterprise: an online butcher's store, because, of course, people need meat to cook on their George Foreman grill.
He is often in motion but rarely in a hurry these days. Foreman lives on a gated 45-acre property not far from Houston. On a mild February day he offers a tour via golf cart. He points out the tennis court—which he has never used—and the stables. (Foreman keeps most of his 50 horses on his ranch in Marshall.) He opens a garage that boasts 38 cars. Ferrari, Porsche, Maybach, Tesla TSLA -3.17% —you name it, he has one. Foreman says the best model he ever owned was a 1977 VW Bug; that's in there too. Does Foreman really need such big collections? No, he admits, but the horses keep breeding ("You've heard the expression 'Be fruitful and multiply'?"), and he's easily sold on cars: "I see these commercials and say, 'Boy, I've got to have that …' I need to stop."
At a professed 255 pounds, Foreman is still at his (comeback) fighting weight. He insists he works out daily, but there are as many toys (they belong to his grandkids) littering the floor of his workout room as there are weights. There's also a huge George Foreman grill—which he says he uses right after he exercises—a few feet away.
Foreman stays plenty busy. His only day of rest is Monday. On Tuesdays, he says, "I try to take care of whatever business I have." Wednesdays he ministers and tries to stop by the youth center that he founded 30 years ago. On Fridays he and his wife head to the ranch, where he raises horses and Black Angus cattle. When the couple arrive at the ranch, he says, his wife feels "instantly relaxed. But after two days I say, 'Let's leave!' " On Saturday evenings and Sundays he preaches and teaches Sunday school. The preaching is a job. Speeches, endorsements—those are jobs too. "The best thing that can ever happen to a human being is a job," he says. "You don't have a job, you're going to die!"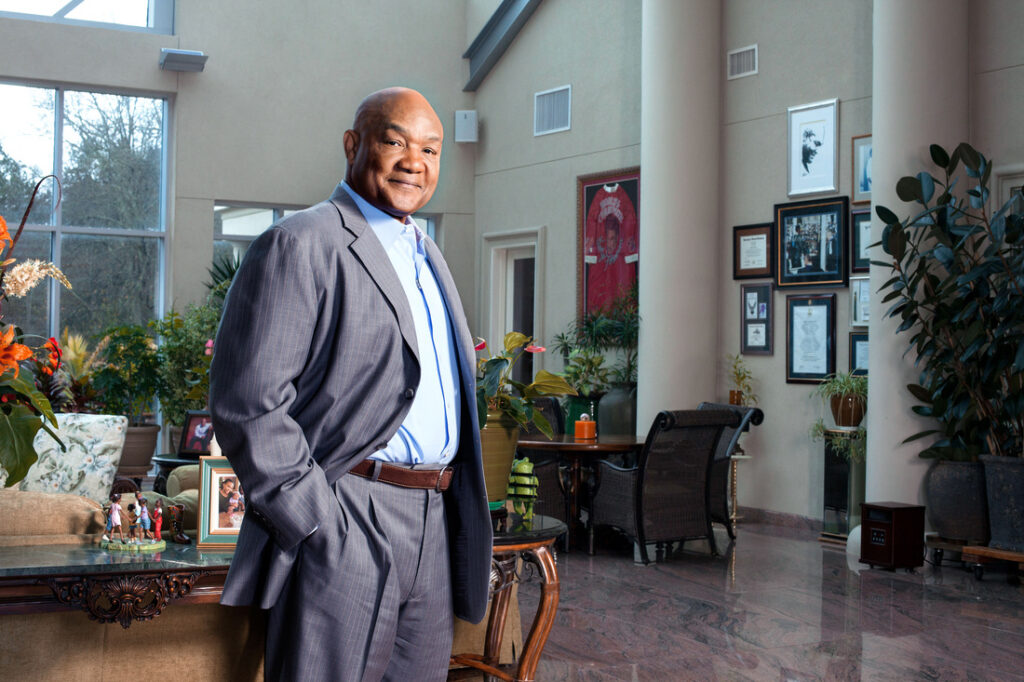 Foreman at his home, outside Houston. Photograph by Ben Sklar
Foreman was initially wary of hawking products, but an unexpected phone call in 1990 changed that. He was in an Atlantic City hotel, early on in his boxing comeback, when Bill Cosby called out of the blue. Decades before, Foreman had appeared on The Dating Game with Cosby's brother Bob. Foreman told Cosby he was getting endorsement offers but said, "I don't want to be on TV saying this and that." Cosby admonished him, he says: "Come on, man. You're no different from any other boy. You want to be on television; you want to be known. If you don't take them, I'll take them." From then on, Foreman was all in as a pitchman.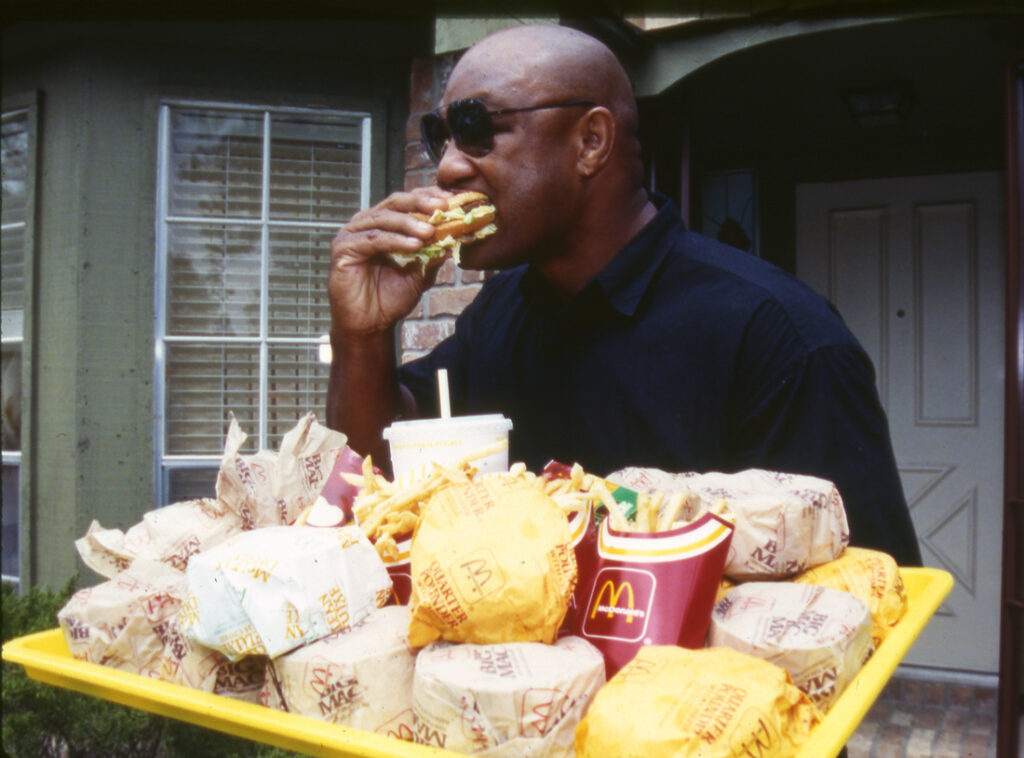 Foreman at a McDonald's in Houston in 1991.Photograph by David Scarbrough — AP
Now, of course, he has his own ventures. Coming soon: George Foreman's Butcher Shop, an online meat company—Omaha Steaks for the Internet age. It will sell all-natural Black Angus beef from small family farms, with an emphasis on quality and healthfulness. "These days," Foreman says, "you want to know about the cow's brother, sister, the spot he stood on. The grill was about health. And now I can spell it out to people with this food."

Meanwhile, Foreman—"Big George"—has been in business with three of his five sons, all named George. George IV ("Bigwheel") is his dad's publicist and is working on the meat company. Two years ago Big George and George Jr. launched Foreman Boys Promotions, which has partnered with Bob Arum's Top Rank to put on seven fights in Macau and a few in Texas. Arum was Big George's promoter for his comeback, and he says Foreman is evidence that complete reinvention is possible. When Foreman first called him in 1987, Arum says, "I was not enthusiastic, realizing what a horrid person he had been." Arum says Foreman's personality was so altered that he suspected a con. "But it wasn't a con," Arum says he came to realize. "He had really changed."

Foreman is happy as an entrepreneur, the boxing mostly an ancient memory for him. But every now and again, he says, he'll cue up a tape of the Rumble in the Jungle, the 1974 classic in which the fearsome young incarnation of Foreman was knocked out, in one of boxing's great upsets, by Muhammad Ali.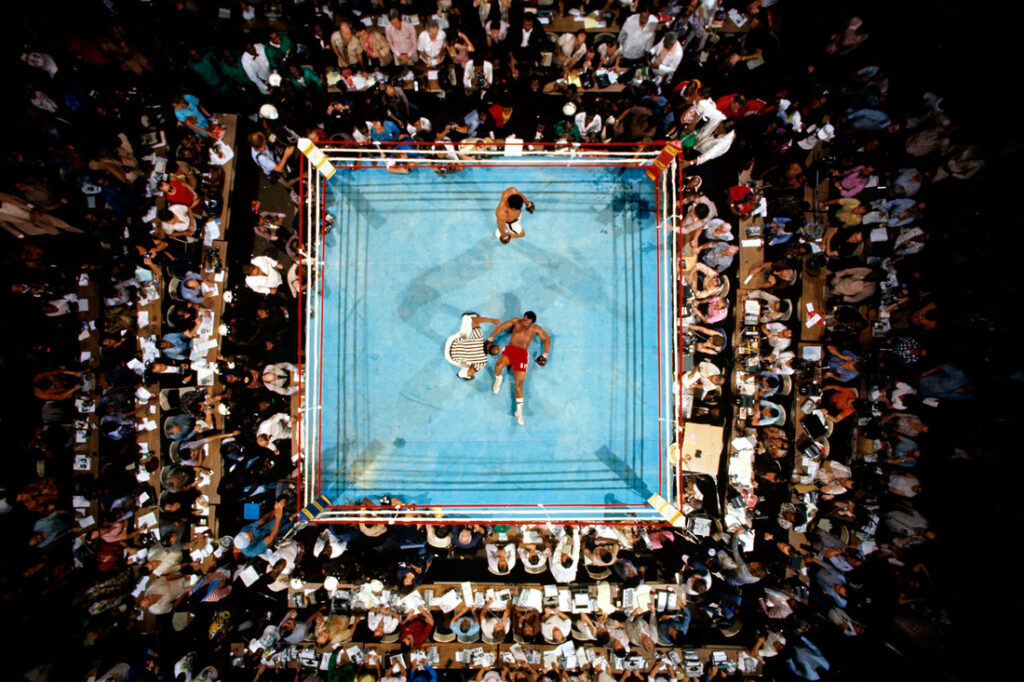 Foreman on the mat in the Ali fight.
"If I watch it 100 times," Foreman says, "each time I still think I'm going to win." He eventually transformed that haunting defeat into a new life, and he's healthy today, while Ali is burdened by Parkinson's. Improbably, perhaps, the two are now friends. On Foreman's last birthday, he says, one of Ali's daughters FaceTimed him and held the phone up for Ali. "He doesn't talk much now," says Foreman, "but when she says, 'Look, Dad, it's George!' then he looks up, and all he has to do is raise those eyes, and everything else comes to life. The guy is still a star. I love this friendship." Foreman grins. He's earned it.

For more great business stories in our ongoing Pro-Files series check out both Fortune.com and SI.com

This story is from the March 15, 2015 issue of Fortune.