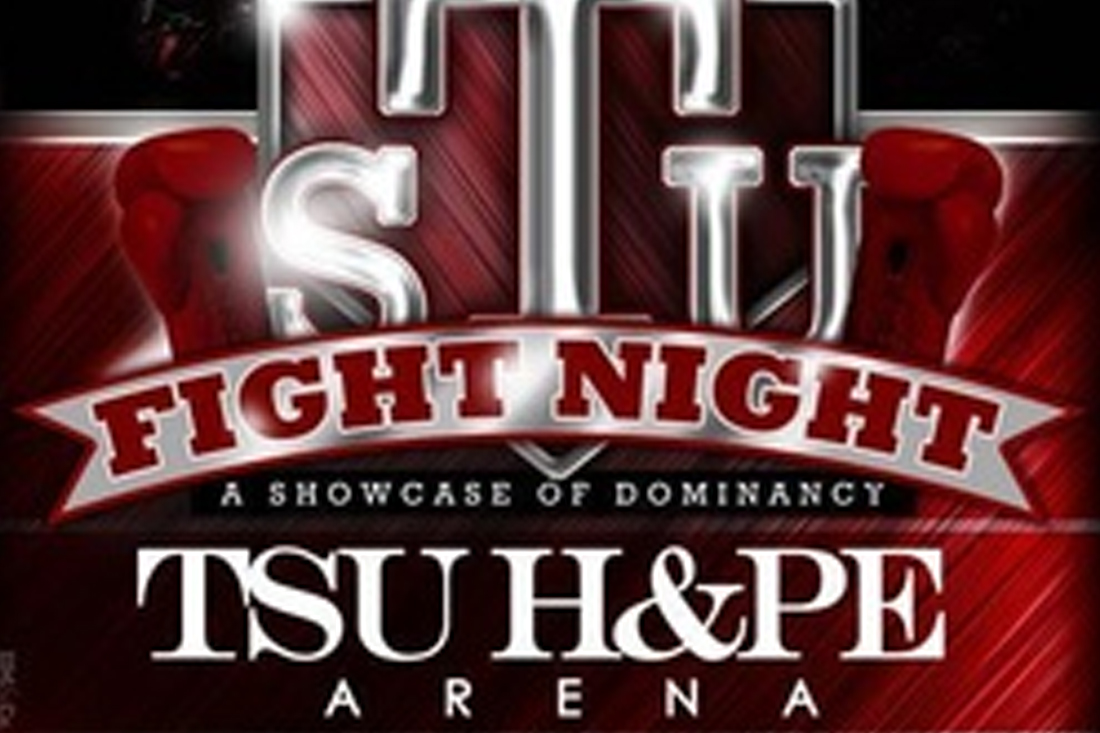 by royforeman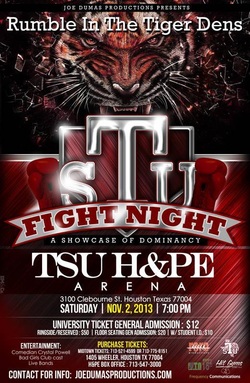 FIGHT NIGHT – A SHOWCASE OF DOMINANCY

Boxing Pioneer Roy Foreman and Media Maverick Yusef Muhammad Announces Launch of Boxing Television Series
a Joe Dumas Promotion Roy Foreman Presents: Boxing's Next Contender

Houston, Texas – October 14, 2013. When Rumble In The Tiger's Den boxing match happens at Texas Southern University (TSU) Saturday, November 2, 2013 at 7pm, it will be the first of ten (10) boxing matches scheduled around the country, the newest option for fight fans on television, offering fights in lightweight, Jr. middleweight, light-heavyweight, welterweight, and heavyweight, across multiple platforms.
In a prepared statement, Yusef Muhammad, the series syndicator and Executive Producer said, "Boxing's Next Contender is the only series that has a full-time commitment to boxing, because it will deliver boxing programs that are authentic, youthful, original and hard hitting. We will focus on boxing content that is important to today's boxing fan…an audience who not only creates popular culture, but maintains it as an integral part of their identity."
"Rumble In The Tiger's Den at Texas Southern University (TSU) Saturday, November 2nd, marks an exciting time in boxing," said Roy Foreman, Executive Producer of Boxing's Next Contender. "This Pro Fight series brought to you by Joe Dumas Promotions, RTS Boxing and C.A.E.O.S Project will feature Francisco Arellano 5 wins 0 losses-lightweight, Jonathan Casmere 5 wins 0 losses-Jr. Middleweight, Louis Webster 3 wins 3 losses-light-heavyweight (6 rounds), Braulio Morales O'neal 0 wins 0 losses-welterweight, Raymond "Lucky" Brown 2 wins 2 losses, O'shaquie Foster 3 wins 0 losses-welterweight, Roscoe Hill IV-Pro debut Jr. welterweight, and Roscoe A. Hill Jr. Pro debut- Jr. lightweight."
Boxing's Next Contender will also offer exclusive and original series, along with its weekly programming that will be available nationwide, with selections in HD. Foreman continued, "I am excited to partner with Yusef Muhammad and Frequency Communications; he has a proven track record of successfully producing and syndicating independent programming. We feel confident that we can deliver quality boxing programming on multiple platforms and Mr. Muhammad will be a key partner in furthering our growth in boxing."
When:
Saturday, November 2, 2013 from 7:00 PM (CDT)
H&PE Arena – Texas Southern University
3100 Cleburne Street
Houston, TX 77004
The fight will be aired on The UTN Channel 15.2, KVVV DTV and www.theutn.com
About Frequency Communications
Frequency Communications is an American media company with interests primarily in, but not limited to, syndication for over-the-air broadcasters, mobile, digital, cable and satellite networks. Our ad-supported programming network delivers a mix of original and acquired programming, bringing our audience the latest in music, comedy, sports, drama, documentaries, and films.
About Roy Foreman of RoRo Productions
Roy Foreman is regarded as a leading voice in the boxing industry which he has served for over 25 years.
Managed his brother George Foreman through his Championship titles
Hosted his own show on Comcast Network for eight years
Has promoted over 200 fights in the Americas and in Europe
Was appointed by the US State Department as America's Ambassador for Sports
Served on the US Olympic Boxing Committee
Was appointed as the Commissioner of Boxing for The Peoples Republic of China
Board member and founder of numerous philanthropies and youth organizations
Ringside announcer for International HBO sports
Has his own brand of sports apparel "Foreman Gear"
For more information or to air Roy Foreman Presents: Boxing's Next Contender, interested parties are asked to contact:
Yusef Muhammad
Chief Executive Officer, Frequency Communication, Inc.
8989 Westheimer Rd. Suite 304
Houston, TX 77063
713-538-7089
[email protected]
www.frequencyworldwide.com