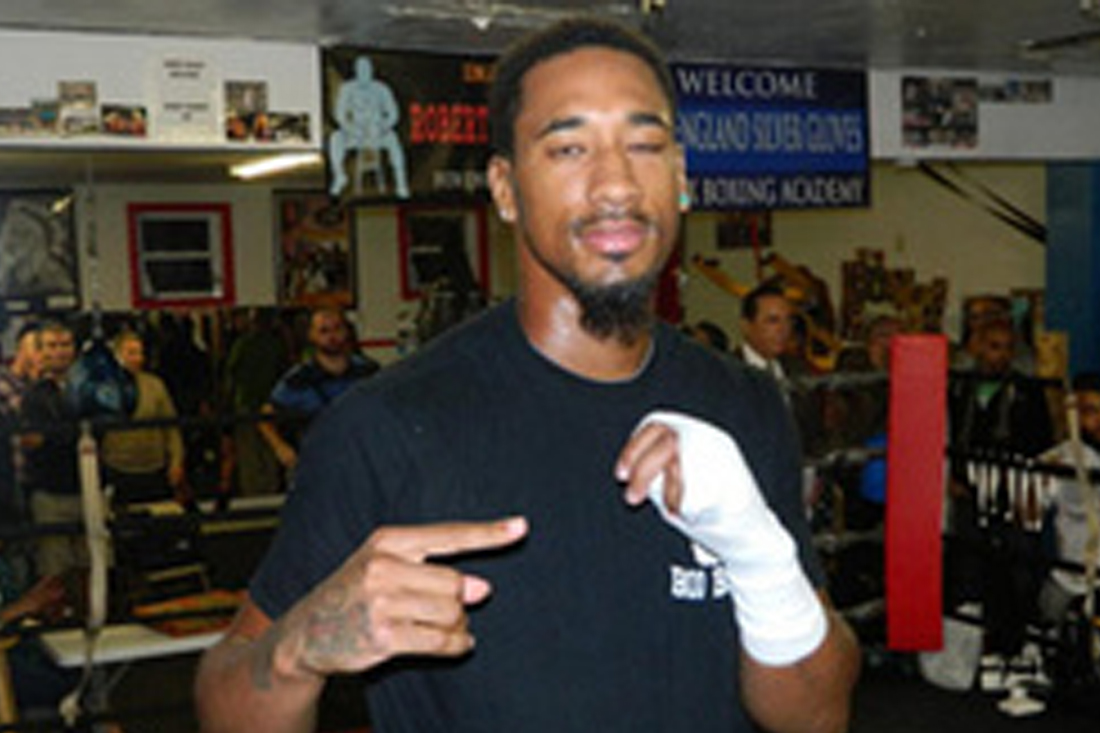 by royforeman
Returns Oct. 17 at Mohegan Sun Arena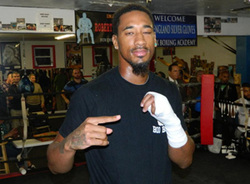 PROVIDENCE (October 9, 2015) – Last night at Big Six Academy in Providence, undefeated super welterweight contender Demetrius "Boo Boo" Andrade (21-0, 14 KOs) hosted an open media workout in advance of his October 17th 10-round main event fight versus Argentinian opponent Dario Fabian "El Gallo" Pucheta (20-2, 11 KOs) at Mohegan Sun Arena in Uncasville, Connecticut.
Stripped earlier this year of his World Boxing Organization WBO) title due to inactivity, Andrade will face Pucheta for the WBO & World Boxing Association (WBA) International titles, marking his first fight in 16 months, since the 2008 U.S. Olympian stopped No. 1 mandatory contender Brian "The Lion" Rose (25-1-1, 7 KOs) in seven rounds of his first and only world title defense.
Andrade captured the vacant WBO 154-pound title November 9, 2013 by way of a 12-round decision over previously unbeaten 2004 U.S. Olympian Vanes "Nightmare" Martirosyan (33-0-1, 21 KOs).
Tickets are on sale, ranging from $200.00 to $25.00 (excluding fees). Call 401.261.3755 to purchase tickets as well as for bus special information.
DEMETRIUS ANDRADE:
"This turnout (of public) shows the support I have in Rhode Island. It's been a while since they've seen me in the ring, but they're going to start seeing me in big fights."
"The cream always rises to the top. I'm going to show that I'm the best 154-pounder in the world."
"It's been frustrating (16-month layoff). This is something I've been doing since I was six and not to do it has been tough. I've tried to stay positive, working hard in the gym to stay in shape, but sparring in a gym is different than being in a fight when your opponent is trying to take your head off. October 17th, people will see what I'm truly made of."
"I have other ways of making a living but I love what I do every day…box! This is a life-changing business. I'm very happy to get back in the ring October 17th. "I'm going to make a statement that I'm the future of boxing."
"The WBO and WBA International titles are on the line in this fight. They took my (WBO world) title and it's vacant right now. The reason I took this fight is to get ranked in the top 15 and fight for a world title."
"My opponent (Dario Pucheta) has come all the way from Argentina to win. This is a tough business and to be 20-2 takes a lot of heart and guts. This is an opportunity for to make a statement. He's hungry and believes because a win over me will make a name for him."
"I've had some bumps in the road and it took a year to get settled. I haven't suffered any damage in the ring. I feel good. The fans are going to say that they need to see a lot more of Demetrius Andrade."
"Camps' been good and I feel great. I want to thank CES for letting me showcase my skills on their card and to continue to bring great boxing to New England."
Follow Demetrius Andrade on Twitter @AndradeATeam or @BooBooBoxing.