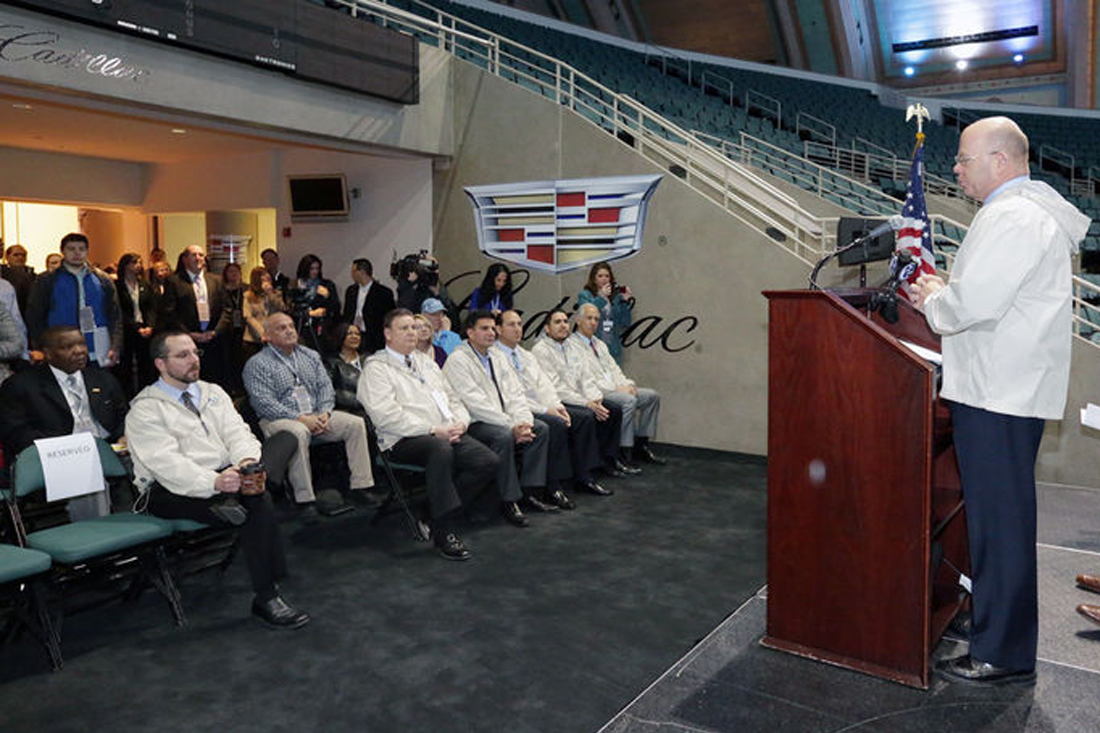 by royforeman
Posted: Tuesday, January 13, 2015 11:40 am
Press of Atlantic City
By MARTIN DeANGELIS Staff Writer
Atlantic City is looking to grow into a major player in the wide world of sports.
Local and state officials introduced a new Atlantic City Sports Commission on Tuesday, saying the agency's mission is to draw more sports business to the city.
They hope to attract almost anything from tournaments to conventions to cheerleading competitions to races, saying athletic events are a growth industry in the country and have the power to be a big business boost for the region.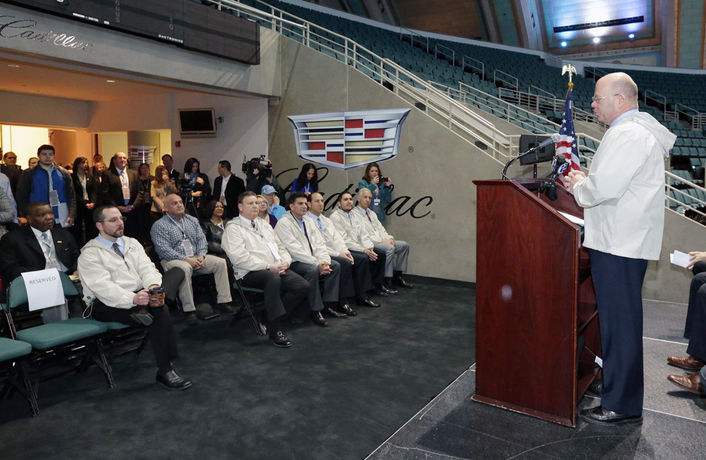 Photo: Michael Ein
Jim Wood, CEO of Atlantic City Sports Commission, speaks during a press conference unveiling, Tuesday Jan. 10, 2015, at Boardwalk Hall in Atlantic City.
---
Jim Wood, president of Meet AC, the new name for the old city Convention & Visitors Authority, also heads the sports commission. He said the group has three main goals: attracting more events to Atlantic City, filling more hotel rooms with sports-related business and using athletics to create "more economic impact" on the Atlantic City area.

"Even during the Great Recesssion, we saw that sports continued to grow dramatically," Wood said during a press conference announcing the new group at Boardwalk Hall.

Later, Wood said the commission's goal is to "generate 100,000 (hotel) room nights in the sports market" within five years — up from "the low 20,000s right now."

Wood, who started at Meet AC last summer, knows Atlantic City isn't a rookie in the sports world. The city has hosted everything from heavyweight boxing title fights to state high school wrestling championships to college basketball tournaments, most notably the Atlantic 10 Conference championships from 2007 to 2012.

Larry Sieg, marketing director for the Casino Reinvestment Development Authority, Meet AC's parent agency, ran through a list of events that have come through the city in the past — many of them right in Boardwalk Hall.

"Arena football, rodeo, boxing, World Wrestling Entertainment, professional and college hockey, the Atlantic 10 … dance and cheerleading competitions and the Atlantic City Marathon and Triathlon," said Sieg, who promised CRDA's "full support in whatever they need from us" for the new commission.

Other officials also stepped up to the microphone — on a balcony overlooking the floor of a hall that was home to many of those major events — and pledged to help the new commission get bigger in the business of fun and games.

Mayor Don Guardian said he hopes to see the commission succeed in "filling our hotel rooms and filling our restaurants. … We want to show the world that we love you, and we need you to love us back."

Guardian remembered being a student at Don Bosco Prep in Ramsey, Bergen County, in the 1960s and taking bus trips to Atlantic City for state high school basketball tournaments.

"We would come three or four hours before the game, walk the boards, get something to eat — and talk about coming back in the summer, when the weather warmed up," he said. "We need to reintroduce Atlantic City to New Jersey."

Lacy Lee Baker plans to introduce Atlantic City to the National Fastpitch Coaches Association's 4,000-or-so members for that softball group's 2019 convention. She said the convention accounted for 3,500 room nights in its latest location, Las Vegas, but she hopes the convention will grow by 2019, which will be its first stop in the Northeast in at least a quarter-century.

After the press conference, Baker made it clear she's done her local research — "The jitneys can provide transportation to people in Atlantic City," she said, before adding that the sports commission was a good move for the town.

"Y'all are smart," said Baker, whose group is based in Louisville, Kentucky — where she's a member of that city's sports commission. "I applaud you for starting this organization."

Steve DelMonte has more local knowledge of Atlantic City. He lives in Wildwood and runs Delmo Sports, which is set to present two triathlon-based competitions in and around Atlantic City this year — Challenge Atlantic City in June and the Atlantic City Triathlon in August.

He also said having a commission focused on attracting sports and assisting organizers could be a great move for the city — even if it just gets potential promoters considering the city started in the right place, on something as casual as a Google search.

"You need somewhere they can go for information," said DelMonte, who added that the 2014 Atlantic City Triathlon generated $2 million for the local economy.

Assemblyman Vince Mazzeo, D-Atlantic, also addressed the group, offering an idea that he thought would draw Gov. Chris Christie's full support:

"Perhaps if we brought the Dallas Cowboys here, we'd get a lot of people to come to Atlantic City," he said, drawing laughs from the crowd.

But later Wood was only serious when he talked about the ambitious goal of using sports-related business to fill almost five times as many Atlantic City hotel rooms as they do now.

"That's certainly an aggressive goal," Wood said. "But it's what Atlantic City needs."